Take a minute and think about your favorite blanket.  What do you like about it?  Is it the color?  The texture?  The design?
For me, it al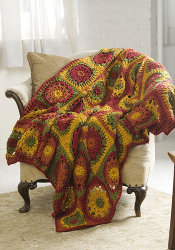 ways comes back to the yarn.  I have this afghan that my grandmother made me before I went off to college and it is — by far — my favorite blanket in my house.  And I've accumulated a lot of blankets in the years since graduation.  There's just something about how the afghan feels against my skin — it's so soft and snuggly, just like those robes you get at fancy hotels where you feel like you're being swaddled in a fluffy cloud.
Unfortunately in the years since my undergrad days, my favorite blanket has seen its fair share of wear and tear.  That's why I decided to try to re-create my grandmother's afghan myself.
The first step:  Figure out what dream yarn grandma used. I called her and got my answer: Caron Simply Soft.  Then I got a 20-minute speech about how much she loves this yarn.  I swear, Caron should put her on their payroll the way she was raving about their yarn.  "It's the perfect weight… the sheen is so great… don't you love its luster?… I always use this yarn for my shawls AND my throws…you can machine wash AND dry it!"… and on and on and on…
Well, as much as I thought dear old grandma was crazy the way she was carrying on about the Simply Soft yarn, I have to admit that once I got the skeins in my hot little hands, I definitely saw her point.  This is some seriously soft yarn.
As for colors, I wanted to mirror the ones my grandma had used since they're my alma mater's colors: purple and white (go Wildcats!).  I picked this off white color and this beautiful iris shade because I know they'll look great together and pay tribute to my school without being too rah-rah over-the-top bold.
Now I'm trying to figure out what pattern to use.  While I want to stay true to the original (memories and all that jazz…), I also kind of want to try something different, and maybe a bit more modern.  My grandma's afghan was a beautiful ripple design similar to this one, but with just two colors instead of four.  I think this design would look great in the colors I chose.
But then I did a little more searching and I found this Country Cozy afghan and fell in love with its bold stripes
and chic design.  So now I'm torn.  I really don't think I can go wrong with either design, and I know that as long as I'm using Caron's Simply Soft grandma will approve of my creation.  So I guess I'm leaving it up to you:
Which pattern should I make?
Share and Enjoy