Print This Post
Every month or so, we run a reply solo in our bi-weekly newsletter, The Craft Connection. With every reply submission, one is entered into a drawing to win a prize. Winner is randomly selected. If you want to be eligible for the next drawing, you can sign-up here, at CutRateCrafts
This month's random winner is Cherry K., who wrote, "I don't have a particular item I crochet in summer. I like to make hats, scarves and afghans in anticipation of sending gifts for Christmas." Great idea, Cherry!
We received more responses this month than in any others that we have ran. Let's read what some of our other readers have to say. Let us know if you agree, or if you want to add to the list, feel free to comment or drop us a line.
Helen wrote in and gave us a list of her favorite summer projects: "Yarn project? Mesh bags. What with kids going to the pool, farmers markets, and carrying extra baby things for my new great-granddaughter, mesh bags are great. But we never seem to have enough hands. I designed my own pattern, and make them of either acrylic or worsted weight cotton, with long handles that you can carry on your shoulder."
Here is a great pattern if you love this idea: Mesh Knit Market Bag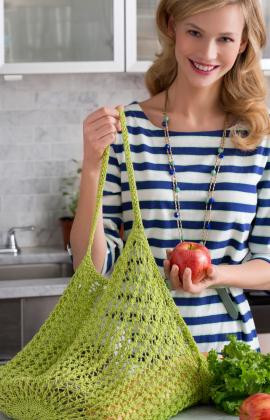 Rebekah C. wrote, "I'm a new Crocheter and have only mostly made scarfs and blankets but with it being so hot in the summer, the last thing I want is a big heavy afghan on me! So I've started making wash cloths for the operation Christmas child boxes. Also other small projects like sun glass holders , mug cozies etc."
Many readers have replied and shared their interest in making wash clothes. They're a small, useful project! Here are a few neat patters to try:
Quick and Clean Simple Crochet Dishcloth
We have all of the yarn you can stand at CutRateCrafts.
Danielle M. makes a great point about piece projects in her response: "I like pieced projects. For example, afghan blocks or raglan cardigans/tops that are not top down. This allows me to continue working on practical things without mounds of yarn in my lap making me hotter than I already am.  Baby items tend to get made in my summer-month work as well because they are small and again don't cover me up with heaps of yarn."
With so many responses, we couldn't possibly share them all, but keep them coming! We love hearing from our readers. Check out a few of our favorite yarns:
Stayed tuned for more reader responses next month and don't forget to share your favorite ideas with us!
Print This Post