Print This Post
Here we are, the end of July, where we've reached those sultry dog days of summer. This is the hottest, most uncomfortable part of summer in the Northern Hemisphere. Let's embrace this time, when it's almost too hot to go outside on some days… but all that means is… it's the perfect opportunity to craft!
The beach is a great way to cool off on those hot days. It's not unheard of to see people reading and bringing books with them to enjoy while they soak up the sun. Try bringing a coloring book instead! CutRateCrafts has a large selection of them. Get inspired, get to coloring while you take in the rays. Today is going to be AWESOME!
Ice cream is one of the best ways to cool off this season. This adorable ice cream pillow is the perfect craft to bring some seasonality to your space. The perfect reminder of the yummy treat that reminds us of those long, lazy dog days of summer. This project is fun and easy with no sewing required. This 12×7-1/2×3 inch package contains over 240 pieces: one pillow, one tool, a variety of colored fabric pieces and instructions.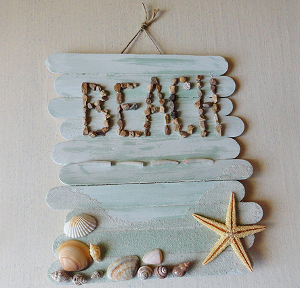 Not feeling the heat, rather stay inside? Bring the beach indoors with this fabulous DIY project. The finished product is beachy, authentic, and would make a great addition to any beach lover's home or office.  We've got everything you need to create this fun summer project:
You can't bring a puzzle to the beach, but this one is awesome! If it's one of those days and you just can't stand to be outside this summer, try your hand at a puzzle instead. Jigsaws are a great project for any season, but this mouth-watering ice cream print is perfect!
We hope that everyone is enjoying their summer days and nights. Stay tuned for our upcoming blog that will feature favorite summer crafts from our readers. 
Print This Post